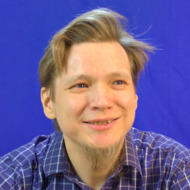 As of:
2020-08-14
The permanent address of this page:
https://iki.fi/joel.yliluoma/cv.html
PERSONAL
WORK EXPERIENCE
Full-time
2016—…
Senior Software Engineer
Etteplan Embedded Finland (Espotel Oy), http://etteplaniot.com/
Embedded development (ARM7, STM32, nRF5, SMARC Linux)
2014—2015
Coach driver
Savonlinja Oy (Etelä-Suomen Linjaliikenne Oy)
2000—2012
Software Designer
City Dev Labs (W-Create, W3 Group), http://citydevlabs.fi/
Web backend programming, Linux server administration
1995—2000
Software Designer
Solteq Oyj (as Osarsoft Consulting Oy)
Part-time
2018—…
Independent Entrepreneur
Maintenance & support for old customer projects
2013—…
Dance Instructor
Espoon Seurakuntayhtymä (Lutheran Church in Espoo)
2013—2017
Consultant
City Dev Labs, http://citydevlabs.fi/
Maintenance & support for old customer projects
1999—2014
Data Conversion Specialist
Järventausta Oy
And various other, including military service (11 months), newspaper delivery, ISP server co-administration, and practical training in various fields of work.
EDUCATION
2020
Special Education
University of Helsinki
5 cr (5 ECTS) of Basic Studies in Special Education
2014
Driver CPC
TTS Koulutus Oy
Preparatory studies for Logistics Bachelor's Degree
1998—00
<no degree>
Espoo-Vantaa University of Technology (prior names: Evitech, Evtek; now Metropolia)
For Bachelor of Computer Engineering degree, unfinished
1997—98
Military service
The Finnish Defence Forces
I also developed a network analysis & entertainment program to be used in the YVI2 telecommunication vehicles.
1994—97
Mechanic of Computer Technology
Keravan Ammattioppilaitos (name now: Keuda)
A student award of good progress from Järvenpään Data-Keskus Oy
Driver's License (EU): B C D
Professional Competence (Driver CPC) for bus, coach, lorry (currently expired)
POSITIONS OF TRUST
| | | |
| --- | --- | --- |
| 2020 | Board member | Keravan Perussuomalaiset ry |
| 2019 | Member of electoral board | Keravan kaupunki (parliament elections & EU elections) |
| 2019-2020 | Board member | Skrolli ry |
COMMUNICATION SKILLS
I love teaching and instructing people. Nothing delights me more than to see a person grasp a new thing after I have explained something clearly and patiently. As a person I am honest and frank. I like to approach each person as an individual, and I usually get along well with old and young people alike.
Languages
| | |
| --- | --- |
| Finnish | native |
| English | fluent (written and spoken) |
| Swedish | basics |
| Japanese | basics: passed level 4 Japanese language proficiency test |
| Hebrew | beginner: biblical phrases and alphabet |
COMPUTER SKILLS
I am an experienced programmer in a multitude of programming languages and a few microcontroller platforms, such as AVR, PIC, 6502, and Z80, and I have twenty years of experience of using relational databases such as MySQL in commercial products. I also enjoy reading source code, and take pride in being good at that. I particularly enjoy C++, and like to keep up to date with the newest standards. Some other keywords that define my expertise: C, git, gcc, bash, nasm, ffmpeg, clang, Linux, Debian, xterm, MCU, hex editor, reverse engineering, x86, 6502, asm, concurrency.
MAJOR PROJECTS
A system for RS485-linked embedded measurement devices communicating over a single time-constrained LoRa link, with automatic endpoint negotiation.
Two multilanguage web dictionary suites for different companies, developed at W3 Group Finland. Highly related with database, network and character set issues.
A database browser with a textmode windowing UI for DOS. (Licensed by Osarsoft Consulting Oy)
Online Japanese-English dictionary application with many kanji-related tools. (own project): https://iki.fi/bisqwit/japtools/
Several unlicensed legacy video game "fan-translation" projects, which have involved 1000—30000 lines of text per game, and adding tons of custom assembler code doing things such as name conjugation and custom cutscenes. See more at: https://iki.fi/bisqwit/gametrans.html
An multilanguage online members directory software. Developed at W3 Group Finland. Has been used by several large organizations in Finland, including 4H and Rotary.
Founder of the online community TASVideos (http://tasvideos.org/), a wiki/forums/directory web-site specializing in tool-assisted speedruns of video games. I hand-coded and maintained the site from 2003 through 2009. It is currently the world's largest source of tool-assisted speedruns, universally recognized in the speedrun community.
YouTube channel "Bisqwit". I create and publish programming and technology videos on my free time. Topics include 3D engine design, embedded system/video game console emulators, technology studies etc.
HOBBIES
Computer programming since 1992.
Israeli folk dance since 2009 (teaching since 2013; biweekly since 2016)
YouTube content creator. As of 1/2020, my programming-oriented channel has over 100 thousand subscribers.
Old console games (Nintendo etc.): soundtracks, translating, and hacking
The game of Go, https://bisqwit.iki.fi/jutut/go2.html
Languages and cultures: Japanese, Hebrew.
I devote much of my free time to developing and exploring software and software technologies. I am a hobbyist Linux hacker, as well as a Nao robot developer. I'm a free software enthusiast (as per Free Software Foundation definition of "free").
REFERENCES