Resume of Joel Yliluoma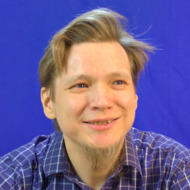 As of:
2020-03-04
The permanent address of this page:
https://iki.fi/joel.yliluoma/cv.html
PERSONAL
WORK EXPERIENCE
EDUCATION
COMMUNICATION SKILLS
COMPUTER SKILLS
I am an experienced programmer in a multitude of programming languages and a few microcontroller platforms, such as AVR, PIC, 6502, and Z80, and I have twenty years of experience of using relational databases such as MySQL in commercial products. I also enjoy reading source code, and take pride in being good at that. I particularly enjoy C++, and like to keep up to date with the newest standards. Some other keywords that define my expertise: C, git, gcc, bash, nasm, ffmpeg, clang, Linux, Debian, xterm, MCU, hex editor, reverse engineering, x86, 6502, asm, concurrency.
MAJOR PROJECTS
HOBBIES
REFERENCES
---
Last edited at: 2020-06-10T01:58:25+03:00